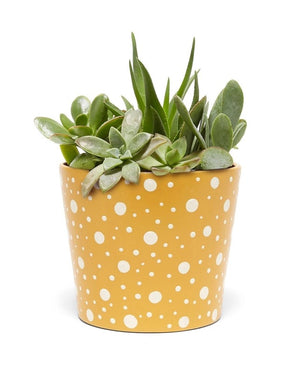 Yellow Polka Dot Dot Dot
Sale price Price $30.00 Regular price
Pair your favorite plant with your new favorite pot! These stunning planters are hand painted and sealed. No two will be exactly alike! 
Each pot has a drainage hole. 
Small: 4.8"x4"
Medium: 6.5"x5.5" 
About Pepper Palm:
Pepper Palm is a creative studio that specializes in hand-painted plant pots and plant decor. Based out of Nashville and in the heart of Germantown, Pepper Palm strives for imaginative, creative, bold designs and keeping resources and materials USA sourced.