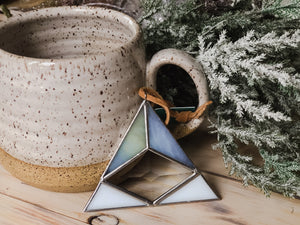 Mini-Seer Sun Catcher
Sale price Price $30.00 Regular price $38.00
Each piece of glass is hand cut, shaped, and soldered, then finished in silver and laced with hand-dyed leather. Beveled diamond shaped glass center casts rainbows on your surroundings.

For maximum color saturation, position sun catcher in front of, or by, a window. Details: Dimensions: 3" x 2". Indoor use only.

White with silver finish.

Made in United States of America