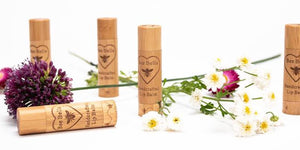 Bee Bella Lip Balm
Sale price Price $6.00 Regular price
Bee Bella isn't your average lip balm company. Since its start, Bee Bella has made an enormous effort to be socially and economically conscious. They source organic ingredients, provide funding to honey bee research, support U.S. manufacturing, guarantee that their products are never tested on animals, and ensure that farmers around the world are treated fairly and work in humane conditions. Each lip balm is also hand poured and crafted by the beekeepers themselves. Bee Bella is located in Oshkosh, Wisconsin. 
What the makers have to say about Peppermint: Not your everyday peppermint lip balm! Made with Raw Fair Trade Cocoa Butter and a rare strain of Peppermint Oil famous for its sweet aroma, this lip balm has the aroma complexity of a luxurious perfume and unbeatable smooth application.
What the makers have to say about Mango Pomegranate: Bee Bella created this lip balm for those (OK, we mean us!) who need to mentally escape the dog days of Wisconsin's harsh winter. Once you've applied this invigorating balm not only will your lips be protected from the elements but you'll enjoy the tropical fragrances of a Caribbean Beach!
Peppermint Ingredients:Cera Alba (Beeswax), Theobroma Cacao (Cocoa) Seed Butter*, Simmondsia Chinensis (Jojoba) Seed Oil, Argania Spinosa Kernel Oil (Argan Oil), Cocos Nucifera (Coconut) Oil*, Mentha Piperita (Peppermint) Oil, Lanolin, Rosmarinus Officinalis (Rosemary) Leaf Extract, Tocopherol (Vitamin E), Citrus Aurantium Dulcis (Orange) Peel Oil, Capsaicin
*Fair Trade Certified™ by Fair Trade USA. 37.58% Fair Trade Certified ingredients
Pomegranate & Mango Ingredients: Cera Alba (Beeswax), Theobroma Cacao (Cocoa) Seed Butter*, Simmondsia Chinensis (Jojoba) Seed Oil, Argania Spinosa Kernel Oil (Argan Oil), Cocos Nucifera (Coconut) Oil*, Mangifera Indica (Mango) Seed Butter, Aroma, Lanolin, Rosmarinus Officinalis (Rosemary) Leaf Extract, Tocopherol (Vitamin E), Citrus Aurantium Dulcis (Orange) Peel Oil 
*Fair Trade Certified™ by Fair Trade USA. 38.49% Fair Trade Certified ingredients