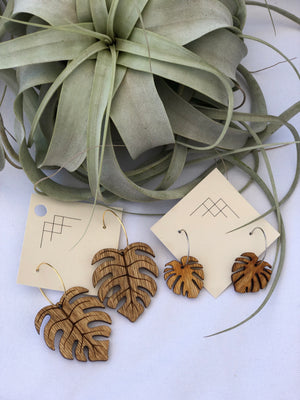 Baby Monstera Earrings
Sale price Price $28.00 Regular price
A smaller version of the super popular monstera earring!

Lightweight birch wood
Natural oak finish
Plated stainless steel hoops
Hypoallergenic & nickel-free
 About lovelevel:
We love to love ourselves. We love to love each other. We love to love the planet. We love to level up. Our brand name was thoughtfully created to emphasize our values. lovelevel is lowercase with purpose to signify equality for all. It is one word to represent togetherness and harmony. We are proud to be 50% LGBTQ+ owned, 50% black-owned and 100% woman-owned. Our mission is to design and create jewelry that inspires a natural connection to the earth that we live on and all its inhabitants. Most of our designs resemble the likeness of nature and are made with natural materials. We strive to give back to the community by donating a portion of our earnings to non-profits. Finding ways to make the world a better place by sourcing our materials sustainably and using eco-friendly materials is our top priority. We source our wood from family owned businesses that follow sustainable practices locally in Colorado. You can count on us if thoughtful purchases are your priority.