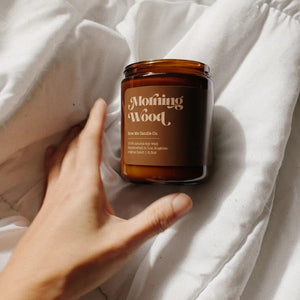 Blow Me Candles
Sale price Price $22.00 Regular price $29.00
We love these sassy candles by Blow Me Candle Co! These are 8.5oz all natural soy candle with a wood wick. Approximately 60 hours of burn time.

Talk Dir-Tea To Me: Eat. Sleep. Boba Tea. Repeat. Notes of bergamot, honey, amber & tonka.
Hello Darkness My Old Friend: The Sound of Silence. The smell of the Black Sea. The darkness isn't a bad place to be. Notes sea salt, cardamon, amber & dark musk.
Morning Wood: The tree was complaining about waking up a little stiff. I guess you could say he had Morning Wood. Notes of mahogany, cedar, teakwood, & light musk.
Go Smudge Yourself: May your hands be cleansed, that they not back hand a hoe. May your feet be cleansed, for side steppin' bad vibes & more. May your thoughts be cleansed, we've seen some stories unfold. & may your heart be cleansed, cause that bitch is cold. Notes of palo santo, cardamom & sandalwood.
About
Blow Me Candle Co.
It's a one woman show! Lots of candles made with lots of love by a single set of hands.
All of our products are handmade in Santa Monica, California. They are vegan, sustainable, made with non-toxic ingredients & always pet friendly. No shortcuts are ever taken. All products are made in small batches to ensure the highest quality product and the maximum amount of TLC because you deserve this.
For every candle purchased, one tree is donated through One Tree Planted.