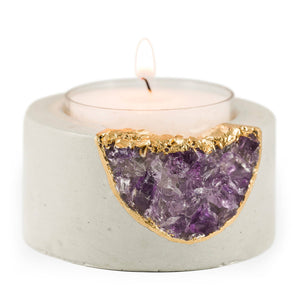 Amethyst Tea Light Holder
Sale price Price $25.00 Regular price $28.00
This tea light holder is made from hand poured and sculpted cement. We use a hollow breakage in the design to create a geode from raw natural stones. Each geode shape and size will slightly vary from holder to holder. We edge the geode area in liquid gold to create a stunning look. 
S I Z E Outside- 2.25" (w) x 1.15" (h) *fits a small tea light candle
D E T A I L S
• raw light amethyst from South Carolina
• light grey concrete color
• there is a divot in the design where the tea light sits
Our concrete embodies the rawness of the minerals it's paired with. We embrace the imperfections like pores and shading. Each planter will have its own unique marks & imperfections while maintaining a smooth finish. Our work embodies the Japanese theory of wabi-sabi , finding beauty in the imperfections. Please understand each design will come with its own unique design of imperfections.