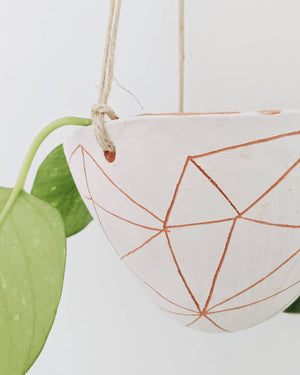 Geotriangle Hanging Planter
Sale price Price $44.00 Regular price
A handbuilt and individually decorated earthenware hanging planter with hand-carved "geotriangle" design in the technique of "sgraffito". The piece is glazed on the interior for added durability. Strung with all-natural leather cord and contains a drainage hole in the bottom. Replace cords as necessary and minimize overwatering/wetting cords to prevent weathering.
White and Terracotta 
5" l x 5" w x 4" h

About Half Light Honey
Half Light Honey is the functional ceramics design brand of artist Samantha Carter. Working from her home studio, Samantha creates unique, functional ceramic designs, wearables, and fine art for the home. She received her B.F.A. in Studio Art and Art History minor from Florida State University in 2011 and still practices a multi-disciplinary approach to art-making.
When she isn't getting muddy, covered in paint, squinting into a camera viewfinder, or carving a new block print, she is hiking, mountain biking, and spending time with her 6 year old daughter. Together they enjoy collecting natural curiosities and memories in the beautiful and diverse temperate landscapes of the Blue Ridge Mountains and deep south.