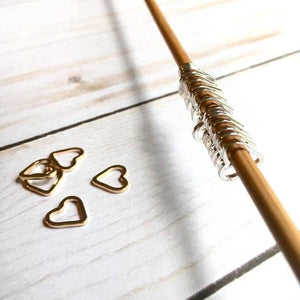 Stitch Markers
Sale price Price $9.00 Regular price
The ring style snagless stitch markers are perfect to mark increases, decreases or pattern repeats. The smooth closed ring metal slides easily from needle to needle and make the perfect gift for the knitter in your life.
Set of 10 absolutely adorable antique bronze cat shaped knitting stitch markers. Medium size: 14mm. Large size: 16mm.

Set of 10 or 25 heart shaped gold knitting stitch markers.  Small size: 7mm fits up to US size 7. Medium size: 11mm fits up to US size 11.
Set of 25 bulb pin knitting stitch markers in assorted colors. These removable coil less pear shaped pins are perfect to mark increases, decreases, pattern repeats or just to help you know how far back to frog your work if you make a mistake. Fits up to US size 11.
Laura Hand Knits is an avid knitter and want to share my passion with others by providing high quality and affordable tools to inspire you. I currently reside in the north Georgia mountains and previously enjoyed the beautiful scenery of the pacific northwest, where i lived for over 10 years. Living in these beautiful landscapes has inspired many knitting projects.
Products are imported.